Main gaming rules in Baccarat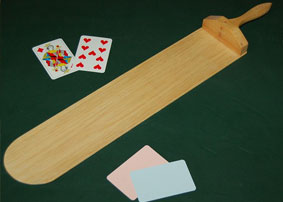 One of the interesting card games in casino, however less popular than blackjack, is called Baccarat, what from French means "zero". In 1490 in France this game was widely known among elite. Right now it is played in all casinos all over the world. Baccarat is played in a separate room, just like Craps, because of the big size of the playing table. The meaning of this game is in betting on one of 3 hands, which on the player's opinion will be the most valued.
Baccarat Rules
Usually game is conducted with the help of 6 or 8 decks of 52 cards each. Baccarat is played by maximum 14 players and 3 dealers. Cards are valued as follows:
King, Jack, Queen have zero points
Cards from 2 to 8 are of the same nominal
Ace has only 1 point
The highest combination has 9 points and consists of only 2 cards. Such a combination is called "Natural". When the sum of player's points exceeds 9, 10 points should be subtracted from this amount until the rest will be less than 10. For example, if player has 13 points the rest will be 3 (6+7=13-10=3).
Three types of bets
According to Baccarat rules, player is able to make a stake on one of three hands, depending on situation.
Punto. Bet on players' winning, is paid off as1 to1. The commission of winning amount is 5%
Banco. Bet is on dealer's winning, paid off as 19 to 20
Tie. Bet is on drawn game, is valued as 8 to 1 or 9 to 1 depending on casino rules.
Process of the game
After bet is made, croupier deals two cards to players and two to himself. One of those either dealer or gambler who will have "Natural" combination will be a winner. If the amount of points is less than 6, player takes third card. In this case dealer is ruled by the "Rule of the third card". In case when player doesn't take third card, dealer will not take it also under condition that his number of points is 6 or more.
Third Card rules
If total amount of dealer's points is 2 or less, he takes a card.
If total amount of dealer's points is 3, he takes a card unless player's card point is 8.
If total amount of dealer's points is 4, he takes a card unless player took out a card valued as 0, 1, 8 or 9.
If dealer has 5 points, he takes a card unless player took out 4, 5, 6, 7.
If dealer has 6 points, he should take a card, unless player picked up 6 or 7.
It dealer's total amount of points is 7 then he takes a third card.

Bonus: €200;
Match: 200%;
Software: RealTimeGaming
Play Casino online

Bonus: $555;
Match: 225%;
Software: VegasTech
Play Casino online

Bonus: £300;
Match: 50%;
Software: VegasTech
Play Casino online